Skip to main content
Do work that matters
We do high conviction work that matters. There are few places more exciting to work than at the forefront of technological innovation and nowhere is this more important than in the field of sustainable technologies.
What we look for
We are looking for independently minded, driven individuals who are intellectually curious, have a strong entrepreneurial streak and share our sense of purpose.
We want to work with people who are excited by the challenge of working with venture companies, both interested in their technological solutions and enjoy building relationships, applying a high degree of emotional intelligence. Like our client portfolio, our talent pool is diverse and international in both composition and outlook.
RIG's clients do not hire us to do easy jobs: they partner with us to tackle difficult, often existential, challenges, and working for aggressive, growth stage companies can be demanding. Failure often feeds eventual success and this cycle requires resilience and the ability to adapt quickly. It is this pace and variety in our work that attracts bright and highly ambitious people to achieve their goals with us.
Work hard at work worth doing.
Why join us?
RIG offers the opportunity to work on strategic and execution challenges facing some of the most promising technology companies in the sustainable technology ecosystem. We provide the experience of working closely with entrepreneurs and CEOs, private and institutional investors, and a wide variety of commercial and non-commercial actors to enable client success across a wide variety of technologies.  
Working at pace in small teams, we emphasise intellectual curiosity, fast development and high levels of responsibility from early on. We look to complement our learning and development programmes with continuous development via our apprenticeship-based learning model. We recognise there is no 'one size fits all' role and will support you in crafting your unique career journey at RIG around your skills and interests.  
We are a group of diverse, high-calibre individuals who are motivated by high risk, high reward business. We look to foster an inclusive, collegial, non-hierarchical culture where the best ideas always surface, regardless of their source and where seniority comes from success, not tenure.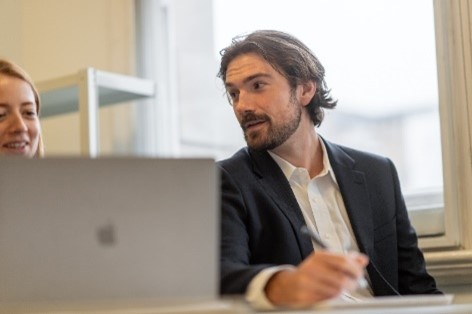 I've had the opportunity to have significant influence over my career development at RIG – this started during the hiring process where we collaborated on building my job description. 
We are always on the lookout for great talent to join our team. If you're interested in a role at Rapid Innovation Group, please send your CV and cover letter to:
georgia@rapidinnovation.co.uk